Many of us are seeking the flexibility and freedom of remote working without being tied down to fixed-term memberships. The rise of free workspaces in London and elsewhere is starting to accommodate much of the needs of this growing community of digital nomads, entrepreneurs, and freelancers. Having done our fair bit of working from coffee shops, cafes, hotels, public and coworking spaces as we launched Othership, we decided to let you know some of our favourites. The most important: They are all free to use, we recommend booking though to secure a place. You might also get a coffee discount (or even a free cuppa)!
Below are 10 of the best free spaces to cowork from in London, measured on atmosphere, community, location, and noise levels.
Hotels to work from
Hotels often have the most beautiful lobbies and serve excellent coffee throughout the day, plus have speedy internet connection. However, they are mostly empty during the day. Past breakfast time, we see many empty hotel lobbies all over London. Wouldn't it be rude if we didn't give them a purpose and used them as a free workspace?
Pros: Hotels usually have a trendy and modern atmosphere where you can take calls or hold meetings.
Cons: If you just went to any hotel on the way, drinks and Wi-Fi could be expensive. Not with our recommended hotels! They have fair coffee prices and free Wi-Fi!
1. New Road Hotel – Aldgate East
At New Road Hotel you walk in from the bustling East End market shops of Whitechapel, made famous by Jack the Ripper, and are immediately welcomed by a stylish interior and smiling faces from reception. This hotel, owned by celebrity TV chef Marco Pierre White, is a secret jewel of East London, and only a short walk to Shoreditch and The City.
From a workspace perspective, New Road Hotel made the list not only for its beautiful design and oasis of style in a developing part of London but because it also offers a plethora of workspace solutions with an open lounge, semi-private area and exquisite kitchen styled meeting room adaptable to boardroom and theatre layouts.
The lounge area acts as a free workspace, adjacent to a cereal bar that has to be tried and restaurant in a large and open space well broken up to reduce noise. The semi-private workspace is in the hotel's library area and comes with unlimited tea and coffee from its high-end coffee machine for only £10 a day. Oh, and Othership premium members get 25% off upgrades & premium space.
Free workspace hours: Monday – Sunday 7 a.m. until 23 p.m.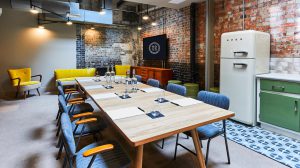 Book now
3. London Marriott Hotel Kensington – South Kensington
For those that like to be surrounded by iconic London landmarks in one of the best-known parts of the capital, the London Marriott Hotel in South Kensington is the place to be. The Cast Iron Bar & Grill restaurant offers a friendly atmosphere to get productive during the day and if you'd like to stay for an after-work get-together with colleagues or coworking buddies, it is known for mouth-watering steaks.
The London Marriott Hotel Kensington invites with a carefully selected interior and it is only a stone's throw from the Royal Albert Hall and the V&A Museum.
Free workspace hours: Monday – Friday 9 a.m. until 4 p.m.
Book now
Coffee Shops & Restaurants
Coffee shops are probably the first place that comes to mind when looking for a free workspace. But before you end up in a place as busy as a train station, with loud music and a lack of stable internet, check out our recommended coffee shops to work from! They have been carefully selected and tested. They all come with Wi-Fi, power plugs and great coffee!
Pros: Cafes provide a relaxed atmosphere where you can perfectly collaborate with others. They offer coffee, food and drinks as well as free Wi-Fi.
Cons: Coffee shops can be a bit noisy if you have to take calls. (You find this information in our venue descriptions so that you can choose a different place for important-call-days.)
4. artFix – Greenwich
If you have been in London for a while, or even a day you have probably visited Greenwich. You likely took in the sights with the Greenwich observatory, the Queen's House, Royal Naval College and even the Cutty Sark on display outside Greenwich Market. The bit you may have missed though is the exquisitely located artFix cafe, playing it's chilled out beats to the open quad adjacent to the covered market. What's really clever is behind the cafe space and outdoor speakers is an area dedicated to coworking that is noise-free yet still has the warmth and would of the cafe.
George the owner is a dab hand at the coworking cafe game though as he runs a second space in Woolwich. Here you will find artists painting and sculpting in the highstreet frontage, while others work from their laptops in the cafe and coworking areas. We recommend both these venues as shining examples of well-run businesses that truly bring the heart to a community, but Greenwich pips it for us as it sits as a shining independent star against the more established brands that can be found on every high street.
Free workspace hours: Monday – Sunday 10 a.m. until 6 p.m.
Book now
5. Fidelio
Fidelio coffee shop and bar shares the mission and vision of bringing young people closer to classical music. This free workspace in Farringdon offers a relaxing and soothing atmosphere for laptop workers. Good coffee and extremely friendly staff will make sure to make your stay as pleasant as it can be. Othership premium members are treated with 25% off food, drink & upgrades.
Free workspace hours: Monday – Friday 8 a.m. until 3 p.m.
Book now
6. 21Soho – Soho
If you ever want to see how to design a space that seamlessly moves between a free coworking space and an ulterior function, then check out 21Soho. This huge open space, full of natural light and luscious tropical indoor planting, is quickly becoming popular with London's community of creatives and startups. The secondary function of this venue as one of Londons comedy club even adds to the overall benefit as a workspace meaning we put Soho21 in our top 5. The reason for this is the large stage and seating area also make for a top event space while the seated area can be used for break out sessions or a quick check of the email.
Free workspace hours: Monday – Friday 9.30 a.m. until 4.30 p.m.
Book now
7. Mama Shelter – South Hackney
The Mama Shelter brand has channeled her inner-cool and set up a home from home in the capital's hip East! With a playfully designed restaurant, garden bar, and Japanese-style karaoke rooms, Mama will both spoil and inspire you in a handy settling, close to Bethnal Green underground and a hop away from South Hackney.
With two large meeting rooms and a vast lobby, there are plenty of places to work and gather. And since working should be fun too, so there is also a couple of karaoke rooms where you can sing your heart out.
Free workspace hours: Monday – Sunday 9 a.m. until 6 p.m.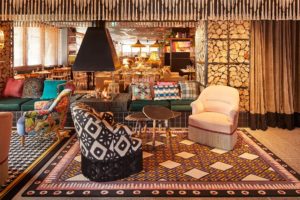 Book now
8. citizenM – Bankside
Situated in the heart of London, citizenM London Bankside is a stylish contemporary hotel, which is just a 2-minute walk from the Tate Modern, near Borough Market and only 600 metres from the Millennium Bridge. Free Wi-Fi is also available.
Some of our members like to sit next to small tables facing the hight street so they can watch the busy street. It feels as if you have your own office. Bear in mind the opening hours, being a hotel we recommend avoiding the breakfast bustle and starting around 08:00.
Free workspace hours: Monday – Sunday 8 a.m. until 11 p.m.
Book now
2. Hart Shoreditch by Hilton
Hart Shoreditch used to be in the top 2 spaces to work from in London. Sadly the management team stoppoed supporting the activity that helped grow thier business. Now the site is still lovely and the WiFi a delight to use, but there is a huge lack of plugs and no coworking table! Don't worry we are working on the reducation programme and hope to have things back to normal soon, if not better.
Unsurprisingly Hart Shoreditch is in the heart of stylish Shoreditch, home to art festivals, vintage boutiques, markets, and an abundance of international restaurants. The hotel architecture nods to the local area, with details such as a striking wrought iron and copper staircase hinting at the area's rich industrial heritage. The lobby weaves together East London's industrious and artisan history with the brand's Arabic roots.
For now, you will find the space quiet to work from during the day, with a few other coworkers to keep you company. But be aware this new secret workspace is likely to become the next Ace Hotel so make sure you get in there now before it explodes.
As we all know, pretty tables and chairs don't always make a great workspace. What really pushes this venue to number two for us is the great service from the ever-friendly staff.
Free workspace hours: Monday – Sunday 8 a.m. until 4 p.m.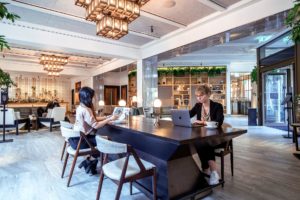 Check in
9. Smiths of Smithfield – Farringdon
Smiths of Smithfield is a fantastic venue, covering four floors there is always an atmosphere to work from whatever the task at hand, making it one of the best of our free workspaces. The ground floor is an American themed warehouse bar with high ceilings, exposed concrete and a range of high and low tables to work from and dine. The second floor is a dedicated coworking space. Here there is more a lounge-style feel, with windows looking out at Smithfield market and two large meeting rooms available to hire.
The top two floors offer restaurant space and a balcony with a view to die for across this historic part of London. If your only in London for a day and want to check out the coworking scene this is the venue for you.
Free workspace hours: Monday – Friday 9 a.m. until 5 p.m.
Book now
Creative Spaces
It is in London's nature to always have something else to discover. As such, we are not surprised to have free workspaces in the city that go beyond the most obvious like coffee shops. Here's just one example:
10. The Southbank Centre – Waterloo
This space is hardly a secret, and hence was why it was one of the first spaces that we used as a free workspace. However, the ability to bring your own food into a workspace can be a huge advantage for the daily digital nomad that finds themselves spending too much on their flexible fun but sometimes overly decadent lifestyle.
The WiFi is plenty fast enough but there is a huge shortage of plugs so make sure you get in early or turn up with some charge already. The real trick here is to get a membership to Southbank Centre and use the members' area, but we have heard that this is starting to be frowned upon.
Libraries
Let's not forget the vast number of libraries in London that provide a quiet work environment – even if you already have a degree, libraries are a very inviting and welcoming space to work from.
Pros: Libraries provide a very quiet work environment and you'll have all kinds of resources at hand if you ever need to do a research.
Cons: The Wi-Fi in libraries can be slow and you can't take calls as this would be too loud. In most cases, you aren't allowed a coffee either.
At Othership, we like the community aspect and the occasional chat with the people around us. We also love a good coffee whilst we work. Libraries don't seem suitable for our needs, but if you would like to give it a try, maybe check out the British Library, Bethnal Green Library or the BFI Reuben Library. We heard that they are popular. Maybe let us know what you think and we might change our mind about libraries!
---
So what next? 
If you're new to London's coworking scene or just looking for something a little more special than the average commercial chain offering coworking then head over to Othership to see our range of free & unique workspaces.
We have over tonnes of spaces with many totally free to book, and if you become a premium member you can then save up to 50% off or grab a free coffee across our curated network of partner venues.
Browse spaces
Try for free
Frequently Asked Questions
Are these workspaces in London really free?
Yes, you can use these workspaces for free! There is no charge for the use of a table in these venues to work from. Some of them even include a free coffee for Othership members
Do I have to pay for the Wi-Fi?
There is no extra charge for Wi-Fi in the free workspaces we recommend.
Is there a stable Wi-Fi connection in free workspaces?
The workspaces that you can book via Othership have all been tested and verified. A good Wi-Fi connection and power plugs are our main criteria when selecting spaces.
Aren't free workspace very noisy?
We select the venues we recommend carefully. They're never as quiet as a library, but the noise-level allow for a good work environment.
Can I bring my dog to free workspaces in London?
There are spaces that allow dogs and some that don't. We recommend you browse through these dog-friendly venues!