At Othership, we completed a study that showed 90% of respondents wanted to remote work. Whilst this may not come as a surprise – what may was the fact that 62% were already working remotely at least once a week. We believe this trend is not only beneficial for the environment but can bring more business to the high street.
90% of respondents were keen to remote work.
62% of respondents work remotely at least once a week.
Over 45% of the UK working remote 2.5 days a week (Regus, 2017).
Only 156 co-working spaces in London in 2017 (LSE, 2017).
Join the Flo•working revolution, Othership, offers free access to unlimited & free workspaces with guaranteed power & WiFi  
Our findings are supported by studies from Regus and LSE, which show that this is a not a UK phenomenon. In fact a global trend. Regus reported that in the UK 45% of people were working remotely up to 2.5 days per week. In technology-driven countries such as China this increases to more than 65% of people.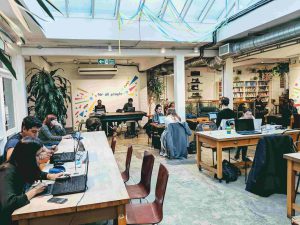 With Greater London having a population of over 8.7 million people and only 150 plus co-working spaces, it seems there is an opportunity for the hospitality sector, and in particular, the UK's local high streets and small businesses. A number of cafes, hotels, restaurants and coworking spaces have already jumped on the trend. New Road Hotel now acts as a hotdesking environment during the day. Another example is Smiths of Smithfields, who provide free access, power and WiFi, plus an open bar with light food and hot drinks.
Work the other way with Othership. This is the Flo•working revolution • with flexible workspaces, weekly events, a welcoming community & member benefits.