How many of your friends, colleagues or employees are not only working remotely now but work from anywhere? Many around us have become full-time or part-time digital nomads. They might work from home at times, stop by an office or coworking space regularly, but also are out and about a lot. A big part of our members live and breathe flo-working and follow a WFA lifestyle.
We have been doing it for a few years and we'd like to share our gift ideas for digital nomads – at least these are the gifts we'd be very happy to receive this Christmas!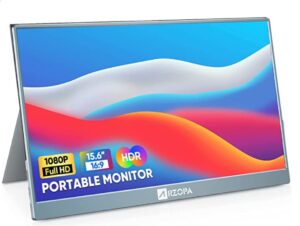 Portable monitor
What we are missing the most when working from anywhere other than our home office is the external 18-inch-screen. No matter what you're working on – research, reports in spreadsheets or emails – a separate screen makes life a lot easier.
18 inches seem to be the luxury option, most portable laptop screens measure 15.6 inches. For those that like to travel light, 13-inch-screens are available too. The person that you gift thiso will be grateful whenever they have to open more than one sheet or tool on their laptop.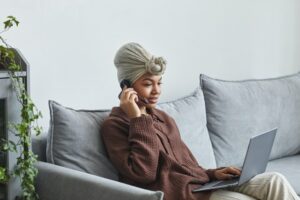 Noise cancelling headset
How we interact with business partners, colleagues and teams has changed drastically with the flo-working revolution. Meetings in distributed teams happen through chat software like Zoom, Google Hangouts or Microsoft Teams. As long as we're in our home office, we can use the microphone and speakers in our laptops. When working from pubs, coffee shops or coworking spaces, we don't want the people around us to eavesdrop and we want to ensure that we can hear the person on the other end. A good headset can literally make or break the conversation.
The one we have chosen has a noise cancelling microphone and good speakers, similar to what call centres use. We recommend a wired one to not rely on a Bluetooth connection for important work calls. The person you gift this to will experience a whole new quality of virtual meetings.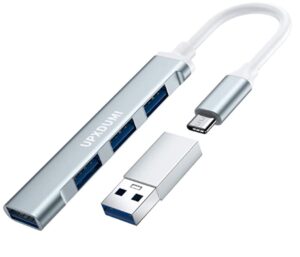 USB Hub
The headset we just talked about is wired and some of us prefer using a mouse over touchpad. We also might need to connect any external storage devices to the laptop – that's at least 3 USB-ports we need. Did you just check how many ports your laptop has?
It seems that modern laptops get less and less USB ports. If your friend or colleague constantly needs to decide whether to connect their mouse or their wired headset, this gift might come in handy. A USB port allows you to connect multiple devices at the same time.
The one we have chosen has a USB plug and a type C adaptor and is, therefore, suitable for most laptops or even tablets. The person you gift this to will never have to decide again which external hardware they need the most.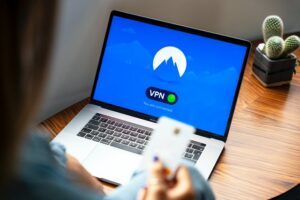 VPN
In times were data protection and cybersecurity become ever more important, flo-workers still regularly connect to public networks. Even if they require a login, information is not necessarily encrypted. Public Wi-Fi makes us vulnerable to cyberattacks.
A safer option is a VPN, a virtual private network as it turns a public network into a private one just as the name suggests. We aren't experts in cybersecurity, so we leave the recommendation to the experts. TechRadar has provided an in-depth comparison of the best VPNs on the market and you can get them from £1.61 per month. So why not gift it for a whole year or even two?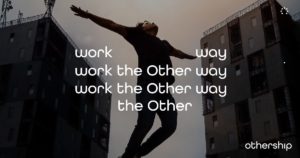 Othership membership
Those that work from anywhere still need a space to work from, even though it might be a different space every day. Wouldn't it be great to get a gift that allows them to access more than 250 workspaces across the country? We might just have the thing for you! An Othership all-access membership is exactly that. Unlock unlimited flo-working for your friend or colleague!
If you are looking for something a little smaller, there are monthly membership options for our free and paid workspaces. Even with the smallest package comes an invitation to Othership events and a great members club where flo-workers chat, collaborate and support each other.
In case you need more reason to grab someone, or even yourself, an Othership Membership for the New Year – then you will be excited to know you can get 50% off any plan until January the 31st.
See offer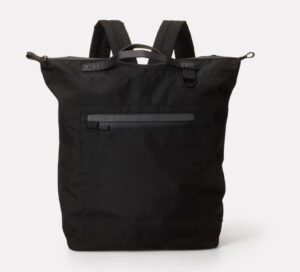 Ally Capellino Bag
Honestly, that's already quite a bit to carry around – your friend or colleague certainly needs a good bag to hold all these things. Since it's Christmas, we can also make it a bit more stylish, not just practical. Ally Capellino Backpacks look like you mean business without that corporate look, they have the right size for 13- or 15-inch laptops and have been tested for cycling. There's a reason this one is called Travel & Cycle Rucksack. What more could your friend want?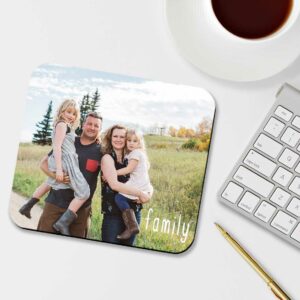 Personalised Mouse Pad
Beautiful workspaces with stunning interiors all around. In most cases though, the interior was not chosen with laptop workers in mind, and it is often those beautiful wooden tables that a mouse won't agree with. That's why mousepads were invented!
They're light and small – easy to carry around – and the best: you can personalise your mouse pad as a gift. Choose a picture that means something for you and your friend, and they'll always have you with them on their travels!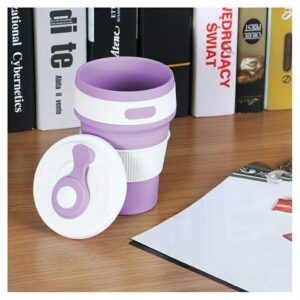 Collapsible travel cup
No matter the situation, coffee is always the answer! That is true wherever somebody is working from. It's easy to get a coffee, but it often comes in a paper cup that ends up in a landfill after just one use. Let's think a bit greener and get your friend or colleague a re-usable coffee cup.
Our favourite travel cup is collapsible, so it always fits in the backpack! It also comes in 6 different colours to choose from.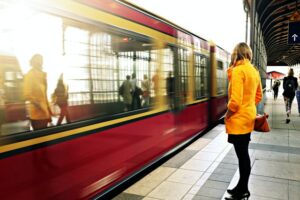 Train vouchers
We already know that your friend or colleague is changing location frequently. So why not make it a little easier for them to get from one place to the next? For travel within the UK, you could get then train vouchers such as those that LNER offers.
For travel within Europe, Allaboard offers great train journeys and their gift cards start at £50.00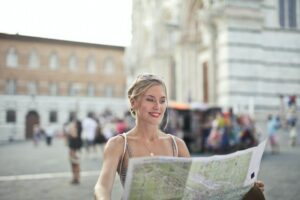 City tour voucher
Now let's also talk about a work-life-balance. Your friend or colleague loves to travel, and they probably work too much. Do they even explore the places they go to? This year's Christmas gift will be a little more free time and exploration. A gift card for a city tour is just what they need.
Sandemans New Europe offers city tours in almost all major European cities – wherever your friend travels to, they get some time away from the laptop and to explore the city.
Ibuprofen
Alternatively, Aspirin or Paracetamol. You know what it's good for!
PS: We also have a list of gift ideas for home offices. Check it out if you have a friend who works from home most of the time.