I only recently started working remotely, or "from home" if you want to say so. People regularly ask "Do you actually get some work done from home?" or I hear questions like "Isn't it a bit lonely to work remotely?". I can certainly see where these questions are coming from. Procrastination is a temporary state that hits each of us from time to time – you can be sitting in the best-equipped office with stunning views, ping pong tables, play stations and fancy coffee areas – none of us is prone to the lingering around. I don't really see a difference here between being in an office or working from home.
Do you actually get some work done when you are at home? Isn't it lonely?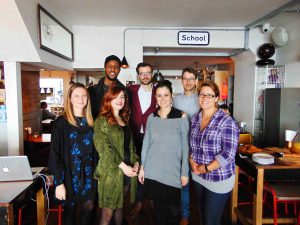 The answer to that first question is very definitive: Yes, I do get my work done. But, no, I'm not home all day. I don't feel lonely either when working remotely. With the opportunity to organise my day flexibly, I finally have the chance to take all the dance classes I want to take, to have coffee with friends that are working night or late shifts or enjoy special discounts for all kinds of activities because I can turn up within off-peak hours. And there is another thing I can finally fully enjoy: the variety a city like London has to offer – especially when it comes to good coffee.
I don't need to point out any figures here, but you will all believe when I say: there are tonnes of coffee shops in London. It is not difficult to find a café, but it's getting really hard if you are looking for one with a nice atmosphere, that is not too loud, makes good coffee and provides a stable wifi connection and power plugs. Believe me, this is harder to find than you might think. And this is where Othership comes into play.
A caffeine-filled greeting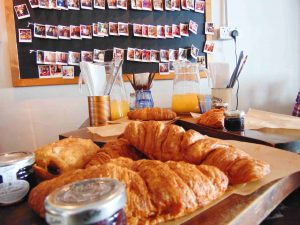 I stumbled upon Othership by coincidence when I was browsing through some events in the slack channel of Google Campus. What it showed was a coworking event with free coffee and tea…I didn't hesitate a second, not even when I saw that the location was on the opposite side of London. Believe me, it was worth every minute of the journey!
I was the first to arrive and was friendly greeted by one of the waitresses and Ben, one of the co-founders of Othership. We had a nice introductory chat and I was offered a coffee. Usually, when you go to an event with free coffee, you expect a huge thermos of filter coffee that has already been standing there for a while and tastes…well…not like good coffee. But this was different, I got a proper Cappuccino with exactly the right amount of milk foam, topped with a heart of cocoa. I should probably mention here that I used to work as a Barista during my studies to make you understand why I'm a bit obsessed with the quality of steamed milk.
In addition to a cappuccino, we were offered a little buffet of croissants, scones and pains au chocolat and orange juice. What a nice way to start a working day! Some other people had arrived by now, whose names I absolutely cannot remember, but we had some chats about each other's work before each of us started what we were there for: getting stuff done.
Despite the temptation to chat with the people around you, it was a very productive morning thanks to the right dosage of caffeine and baked goods.
The Schoolhouse
I almost forgot to mention the venue…We were that day at The Schoolhouse close to Clapham Junction. I was impressed by how well they had done with the interior design. Everything was perfectly in line with the educational subject – periodic table of elements, bookshelves and pencil cases and all those artefacts that remind us of a time we couldn't wait to come to an end. Yet, the atmosphere was inspiring and energising, it wasn't difficult at all to focus on work. Of course, we had some occasional chats in between, but that's what co-working is all about – not being at home all day feeling lonely.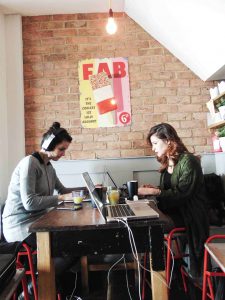 At The Schoolhouse, you have a variety of places to sit – ranging from the typical, wooden chairs we used to have at school, to bar stools with high tables, cosy benches with pillows and comfortable sofa chairs – everybody will find the right place in this coffee shop. That is if you come early enough to have the choice. The place gets quite busy around lunchtime and I would expect this to become even busier in the future with Othership spreading the word about free coworking spaces in London.
There is also music running in the background which I really like for work, but that's just a personal preference. I thought I should mention that here. The internet connection at The Schoolhouse was stable and there are enough power plugs to get some juice in your work machine.
Overall, this first co-working brunch was a very positive experience and I'm certainly coming back no matter where in London it will be.
Thank you, Ben and Arnaud, for providing coffee and croissants and for making it easier to find Cafes in London to work from!