Dear Diary,
There are many beautiful places in the UK. You don't always have to go abroad for a change of scenery. I spent a week travelling to three different places: Bath, Bristol and Shaftesbury. It was a little round-trip, or what I call it, a digital nomading experiment. Well, I believe that most digital nomads wouldn't change location every other day, but it was part of my experiment.
The first stop: Bath
Seasoned flo-workers might think now: Why did she start in Bath? There's no Othership workspace in Bath! (That's right, there's none, yet!) The reason why I chose Bath was a day trip of paddleboarding on the canals and the river Avon with a group of outdoor-loving women, Gutsy Girls (odly the Founder, Natalie was one of the first people our Co-founder Ben ever surveyed about remote working before Othership in a Greenwich cafe). That's how my week started: I had taken Monday off! To be honest, I hadn't taken entirely off. The freelancers amongst you probably understand that it is hard to take a full day without working. There were a few things I had to get done and I also had a zoom call with a client at 9.15, just before we started paddling.
The early bird
I'm a morning person. I'll be up at 6 am either way. I also knew that I had to catch the bus at 8.10 to arrive on time at the meeting point by the canals near Bath. We would only start at 10. The next bus however would have been too late, and I also had that call at 9.15. Had I stayed in a hotel, it wouldn't have been a problem to work from the room in the morning, but I was in a hostel in a shared dorm. (Did you realize that hotel prices these days are just insane?)
As a spoiled Londoner, I was totally convinced that I would find a coffeeshop to work from in the early morning. I would soon find out that nothing really happens in Bath before 8 am! Does that mean I would have 10 minutes to get breakfast before I had to catch the bus? Fortunately, there was one coffeeshop that opened at 7 and it was also perfect to work form!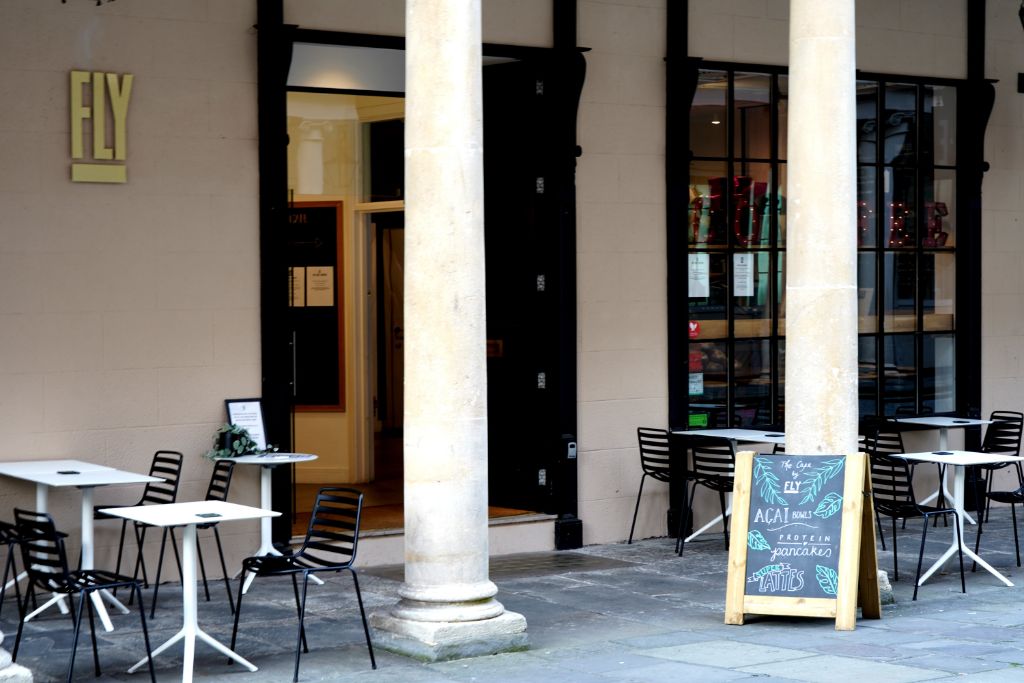 It is at the corner to the Roman Baths and Primark (I know, right by the top tourist attractions in Bath!). Fly is a small coffee shop with outside seating and a few seats inside by the window. It seems small, but it is perfect for laptop workers and the breakfast offer was so yumm! Oatmeal pancakes with yoghurt and fresh fruits and a barista cappuccino. I didn't check for a power plug as I knew I would only stay for an hour, but the Wi-Fi was strong and reliable. There's also a gym right next door for those that are into workouts in between work calls.
I caught the bus at 8.10, took my zoom call from a bench next to the canal and was on the water with a group of SUPer-girls at 10am.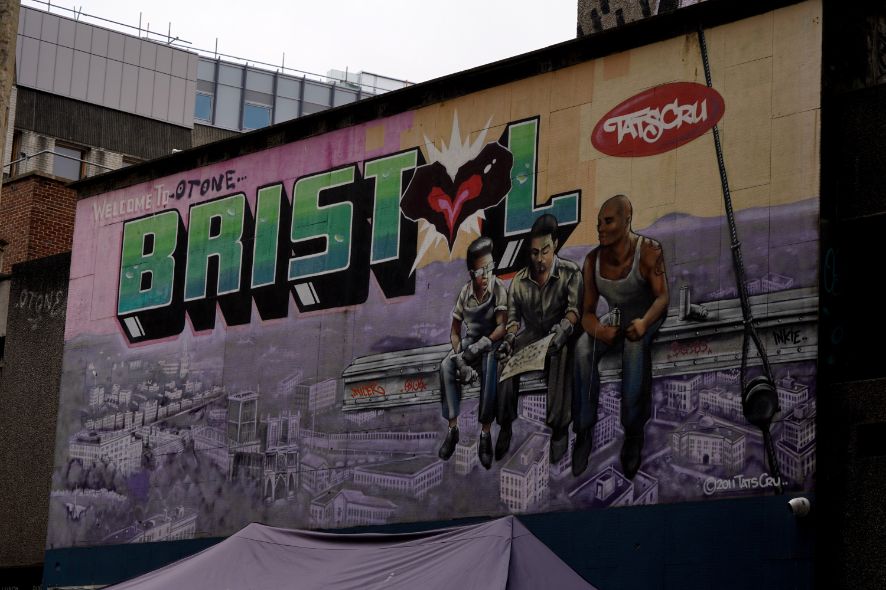 The second stop: Bristol
After a wonderful day on the water near Bath on Monday, I took the bus to Bristol on Tuesday morning. I would usually take the train as that is easier to work but there were no trains that week due to construction work. I arrived in Bristol at around 11 and went straight from the bus station to Flagship – the co-working space I had booked via Othership.
The receptionist greeted me in a friendly way. She was expecting me and didn't even ask for a booking confirmation. She showed me the space and the kitchen. There was freshly brewed coffee, tea, fresh fruits and a fridge and microwave to use and I had a choice between a high table, a standard desk and a sofa with a small table. I took the sofa! I felt very welcome in the space and the afternoon went by very smoothly. The Wi-Fi was strong, power plugs at every desk and even at the sofa. I took my zoom calls in the afternoon in one of the two phone booths and they were perfectly soundproof. It was a positive experience and a productive afternoon.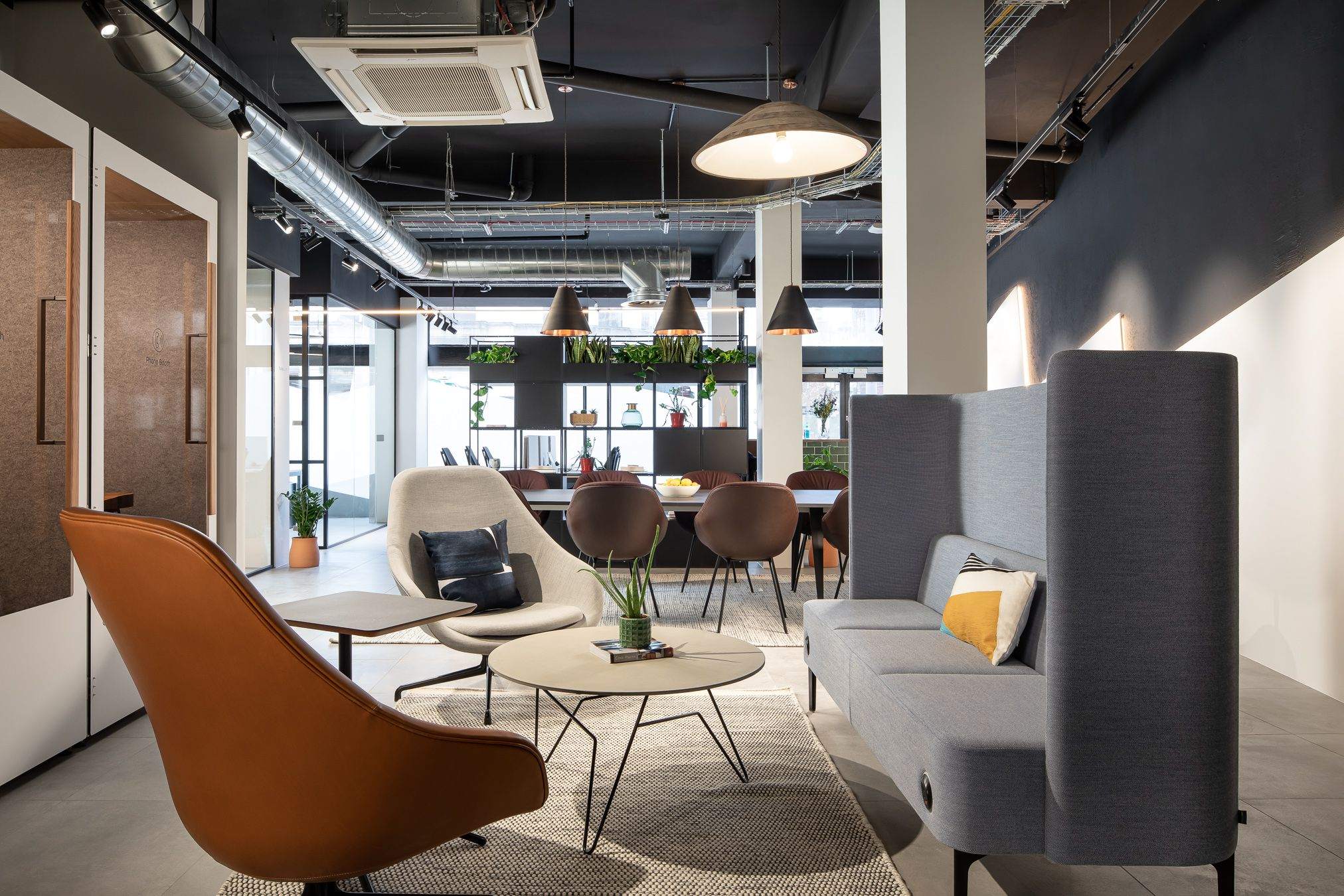 A little cabin in the garden
For my overnight stay I had booked an Airbnb in the quarter Montpelier. From the workspace, it was a good 20-minute walk up the hill to the house. The accommodation was a little cabin in the hosts garden with a bed and a desk. I treated myself to a take-away pizza and got the laptop out again. I had to catch up on some work that I didn't do in the morning when I was taking photos in Bath and took a bus to Bristol. On these occasions, I often wish that co-working spaces were open till late, but the cabin was also perfect to work from.
Graffiti hunting in Bristol
I'm not getting out of London just to work more. No! I want to see a bit of the place! The most obvious thing to do in Bristol – the hometown of Banksy – is a street art tour. I couldn't find any guided tours, so I ventured out on my own. As it turned out, Montpelier was the ideal location. There was a lot of street art right at my doorstep and it was not difficult to find more graffiti on my way into town.
The map I had found online brought me back towards Flagship, but I had booked another workspace for that day. I had breakfast though in a coffee shop next to the Christmas Steps and next door to Flagship. It was a small coffee shop in a historic Tudor house. Unfortunately, it said at the door that laptops weren't allowed inside. It's a shame but also something that us flo-workers must accept. After all, there's a co-working space next door.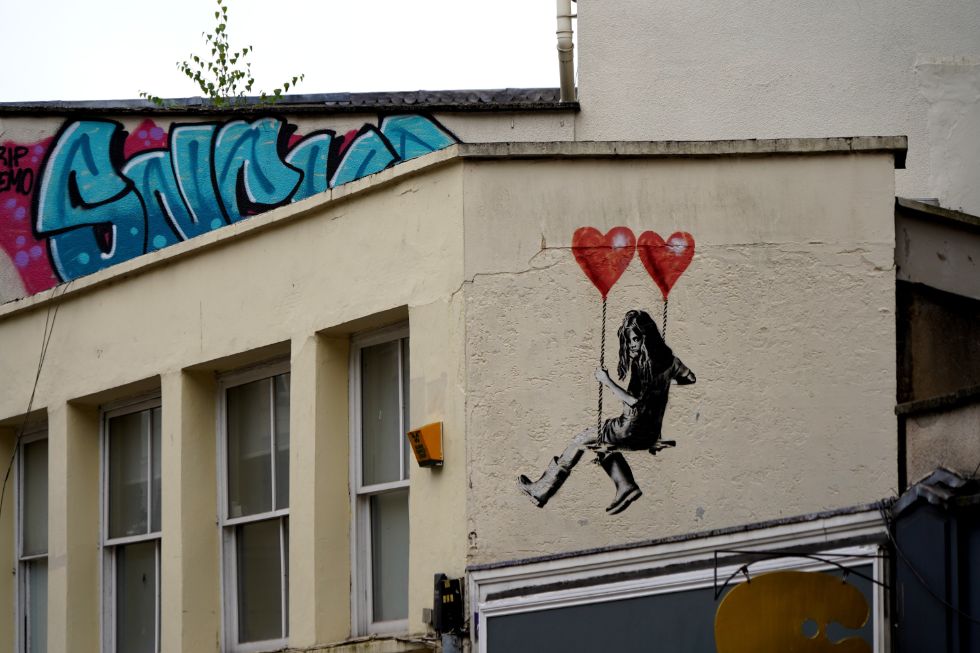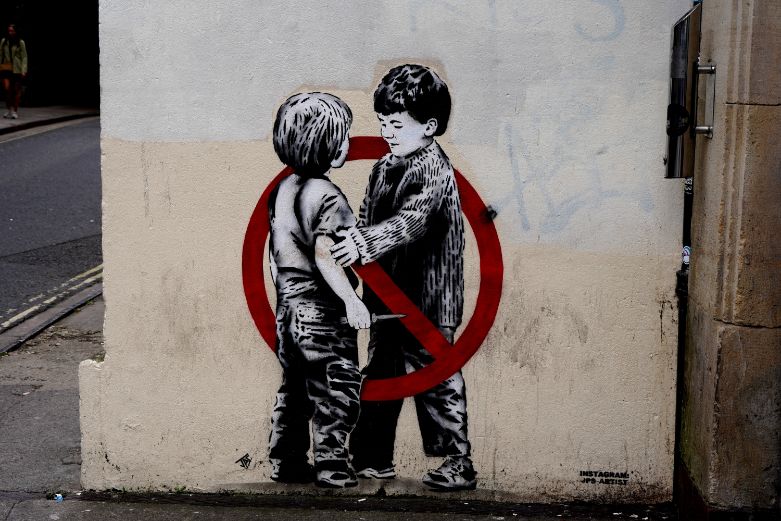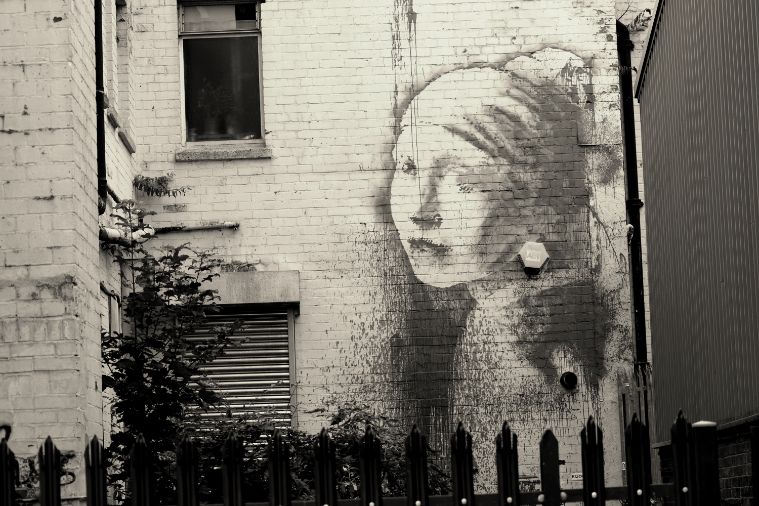 The map guided me further down towards Bristol harbour where I took a water taxi over to the other side of the river. I almost spotted all the street art that had been marked on the map and also a few more graffiti that must have been added to the city recently. For my second day in town, I had booked a day pass at Runway East Bristol. From where I was, I only had to walk along the river to find it at the opposite side of the city centre.
A runway with views towards the river
I had to cross a bridge to the other side, and I could already spot my desk for the day: There was a huge window front with seats that offered a view over the river! The receptionist right by the entrance to the building didn't really know what was going on, but she was very friendly. The security guard had to tell her how to check-in people with a day pass and whom to call. She called a girl called Macey who came down the stairs to check my booking, greeted me with a smile and showed me around the building.
The first stop was at the coffee bar. We passed by the kitchen took the lift upstairs, saw some of the permanent offices in the building and a great roof terrace. Unfortunately, the weather wasn't that inviting to take a seat at the terrace at that time. Macey also told me about regular events they did at the workspace: from community breakfasts to boat parties and beer tasting!
I took the seat I had spotted from outside and was working all afternoon with a river view. Even the sun came out a little later. There are different tables available in the co-working area from little booths to sofas. There's also a ping-pong table. If you have like me a call in the late afternoon, I highly recommend to make use of one of the phone booths as the sound of the ping-pong ball can be heard over the headset.
I had another productive day in Bristol and am sure to return to this workspace too. I will certainly go to Bristol soon again as there are some exhibitions about photography and street art on until the end of October that I didn't have time to see. (There was some work to get done, you know?) And maybe I'll schedule my next visit to Bristol for a day where there is also a Cowork & Brunch going on.
A coffee shop up the road
I left Bristol on a Thursday around lunchtime. I still needed a good breakfast, and I didn't want to get back into town and carry my luggage around. At the end of the street where the Airbnb was, near Stokes Croft, was a nice coffee shop and bakery. The day before I had seen people sitting there with laptops so I was sure this one would be okay to work from.
There was another coffee shop further down the road that looked a little cosier and had lots of plants, but I didn't want to risk ending up in a place where laptop workers would not be welcome. I must say that the staff at Elemental, the coffee shop I went to, didn't seem very interested in serving customers, but the selection of pastries and fresh bread made up for it. I got a spot by the window, next to a power plug, and there was enough space for my luggage to. Even though the staff was a little passive, I had a great breakfast and got a lot of work done!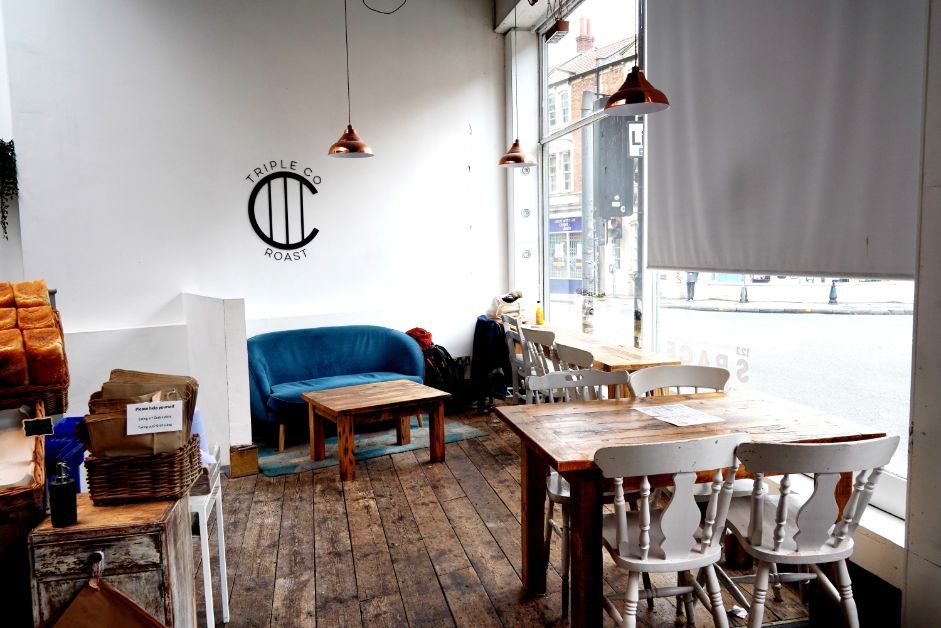 The third stop: Shaftesbury
I could have returned straight from Bristol to London, but I also could put in another stop. I had a look at the map and a small town on the way back to London caught my eye: Shaftesbury. There was an Othership workspace too and it seemed the perfect fit for another stop. I arrived in the late afternoon and went directly to the Airbnb. It was a 300-year-old cottage in a street full of picturesque houses. I was greeted by Sue who lived there. She had just prepared an afternoon tea and invited me to sit down. Technically, I should have been on another zoom call just a few minutes after my arrival, but I managed to cancel that last minute. Who could refuse an invitation for afternoon tea in a traditional English cottage?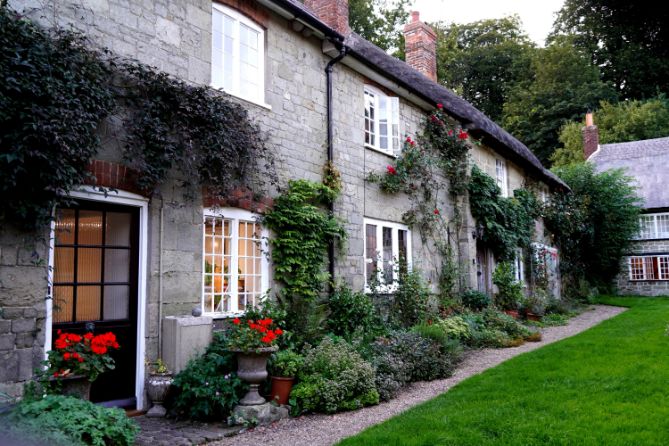 Another workspace with a view
I used the rest of the evening to walk around Shaftesbury, take pictures of the historic town and find a place to get food. If you're into nature walks, the small town is a good location as it is surrounded by hills and forests. It is built on a hill. From the highest point in town, you can enjoy stunning views over the valley and the surroundings. That same view can be enjoyed from The Mitre – my workspace for the next day.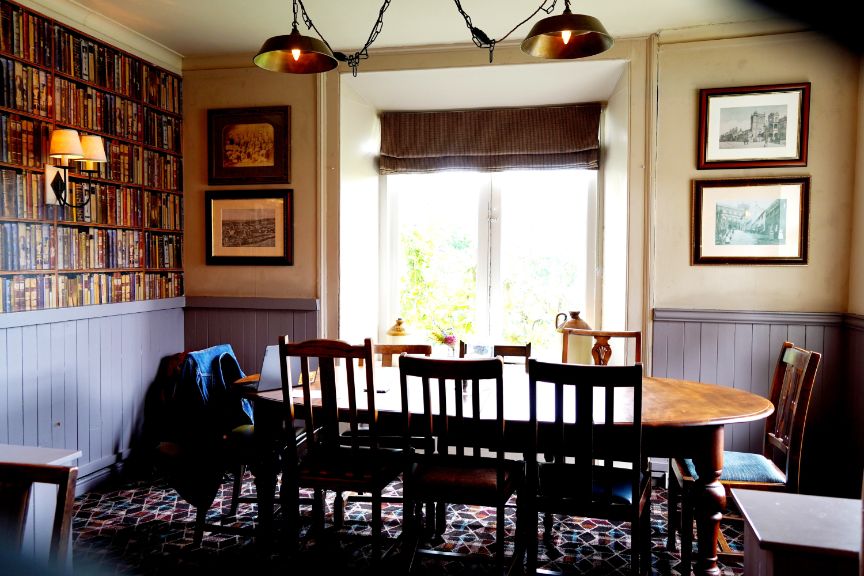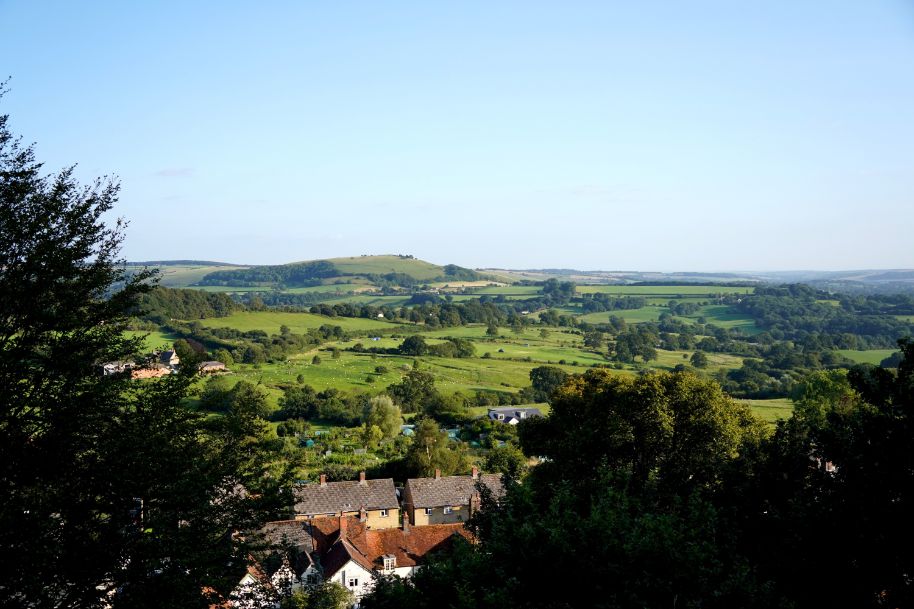 I worked from there before travelling back to London. They were already expecting me and had prepared a table near a power plug to work from. It was in the valley view room downstairs. At first, I didn't understand why she guided me to that separate room. As lunchtime approached, I began to understand.
The pub room upstairs and the terrace were suddenly very busy. Downstairs was not only a bright room with views over the valley. It was also quiet and had a good work atmosphere. The waitress even asked me whether I wanted music in the room or not. That had never happened to me before in a pub to work from. The advantage of a pub over a coworking space is that they serve lunch. You don't have to take care of it yourself. You just sit down and get pampered with their special offer of unlimited tea and coffee and lunch.
I took the train back to London at 4 pm and spent the train journey writing this diary entry. My thoughts were already at the next place I could take my laptop to. I'll tell you about it!
If you would like to experience more of it, check out our free and unique workspaces in the UK.
Browse spaces
---
About the author
This diary post has been written by Jules, a long-term Othership member, regular content contributor and SEO consultant.
If you would like to share your flo-working experience and contribute to the Diary of a Flo-Worker, please get in touch!