Dear Diary,
Travelling has been difficult this year with many restrictions, passenger locator forms and Covid-tests. I couldn't travel to my usual surf destinations in France and the Canary Islands. In return, I got to spend some time in Cornwall.
It's a paradise for surfers, just without the good weather guarantee that you have in the southern hemisphere. I regularly went on weekend trips with friends over the summer and one thing I immediately realized is that Cornwall is not the best option if you rely on a stable internet connection. Many of us digital nomads do, unfortunately. How happy was I when I saw that Othership added a coworking space in Newquay!
To ensure that I would have enough time in the water, I stayed a whole week plus the weekends before and after. This way, I had time to surf and enough days to test several workspaces in the UK's surf capital.
Coworking spaces
There are several coworking spaces in Newquay, but C-Space is the only one that offers flexible day passes. All the others offer only monthly memberships. That's not helpful if you're only staying for a week. However, one coworking space was all I needed, and C-Space is in a perfect location with bright windows overlooking Towan beach. It's a view to be jealous of but it can also be challenging. Just imagine a view over a beach with perfect surf conditions, sunshine and clear lines of waves, but you are stuck on a call with a client! Here's a lesson learned, and I had perfectly sorted it out for the second half of the week: Schedule your work calls around tide times and swell and you get the best of both worlds during a surf workcation.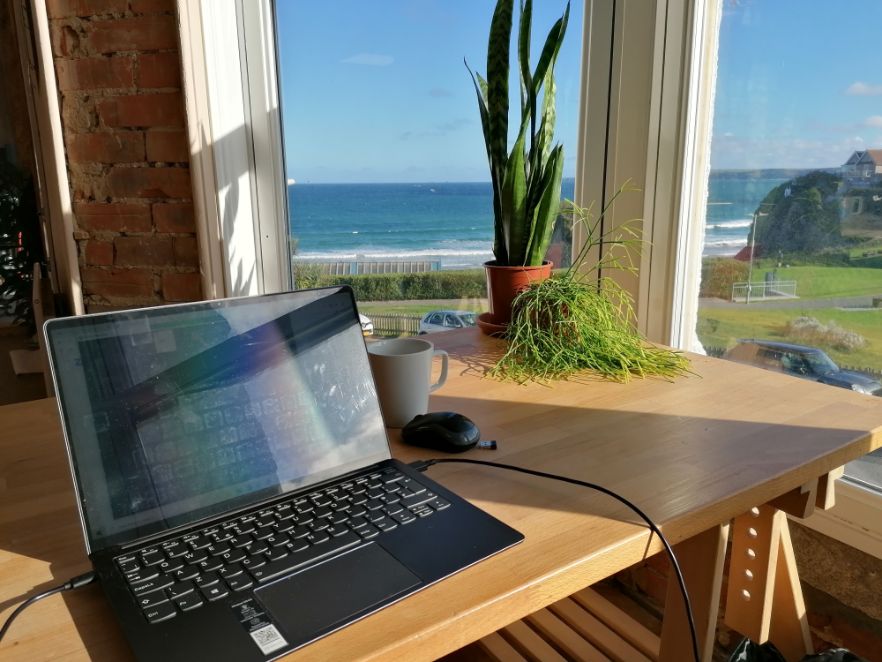 Inside C-Space
Nothing tops the view from the desk near the bay window upstairs, but there are a few more things to mention about C-Space. The building was once a hostel and to keep the history visible, they left some bathroom items in the space. There's a recording studio under a showerhead and a pink bathtub and toilet in one of the meetings rooms. Decorative plants make it obvious that those are not meant to be used. If you want to have a work meeting from the bathtub, you'll have to do this in your home office (sorry!).
The coworking area is over two floors with some private offices and desks of several sizes for solo work or collaborations. Downstairs is a coffee shop that serves barista coffee. Tea and filter coffee is available for free at all times. I was just unlucky multiple times during the day that the coffee was nearly empty when I came downstairs to refill my cup. There was a sign that read "Please make more coffee if you empty it" – Goes without saying, however, I was new to the space and didn't know where everything was. They had forgotten to show me that part of the process when they provided a tour through the space upon my arrival in the morning. What should I do?
A friendly woman noticed the coffee panic on my face and offered to make some fresh coffee. Lucky me!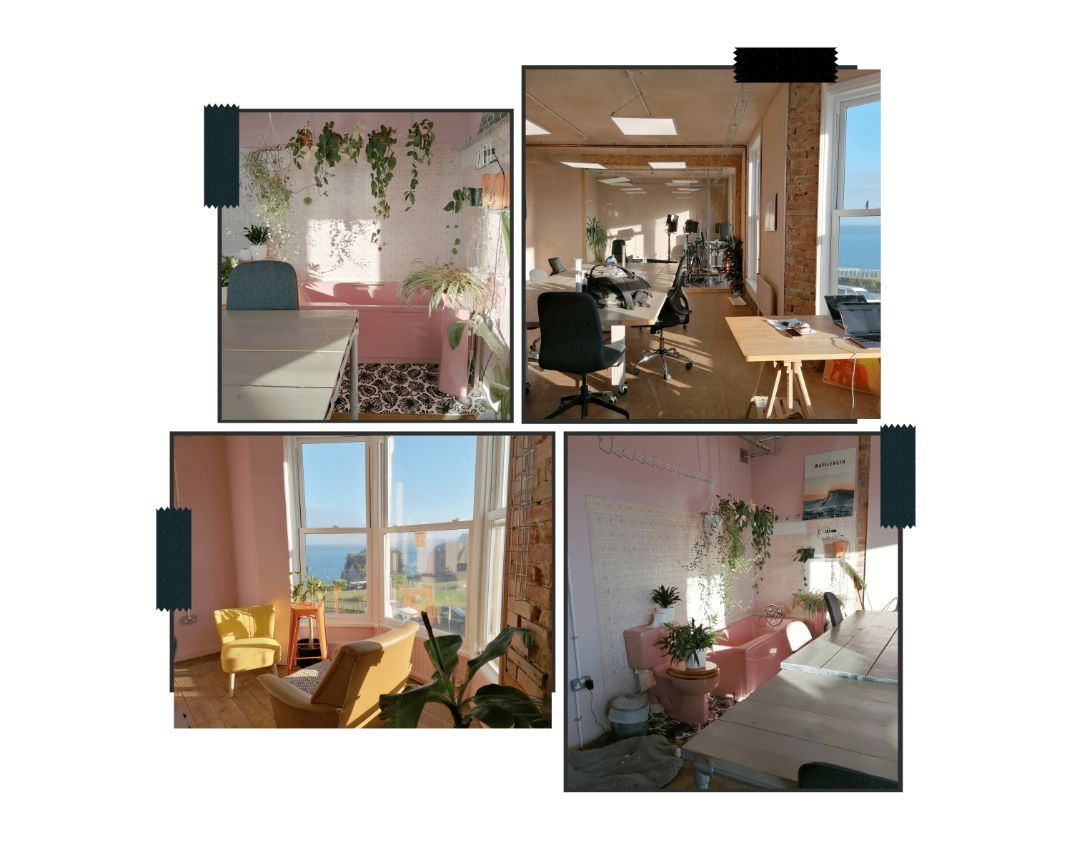 Lunch places
Of course, you could bring your own lunch to a coworking space. This one in Newquay is no exception, but if you want to get lunch, there is a little restaurant just across the road. Beet box is at the bottom of the hill that leads towards Towan beach, and it is literally a "box". There are a few tables inside, but it's mostly take-away food. They have a great selection of healthy food with vegan options. I had a halloumi wrap. Yumm!
The High Street in Newquay is only a 2-minute walk from C-Space where you find several shops and mostly Cornish Pasties. It's a must when in Cornwall and probably also your cheapest lunch option, unless you bring your own food.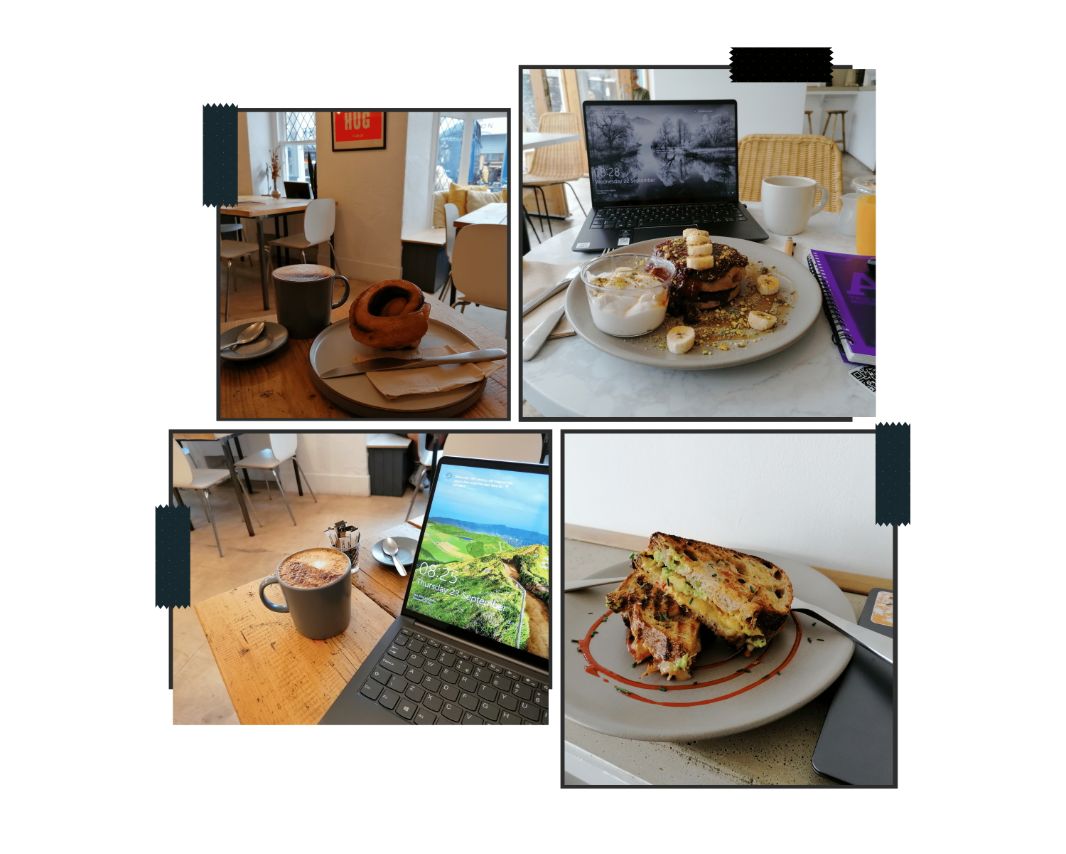 Coffee shops to work from
There is one downside to a coworking space with a day pass: They open at 8.30 and close at 5.30 – but what if the surf conditions are great in the middle of the day and you want to work before or after hours?
Box & Barber
There is one coffee shop in town called Box & Barber which opens at 7 am. They also serve a great breakfast – I highly recommend the pancakes – and have Wi-Fi and power plugs in a bright setting in between plants and surfboards. If you are using a mouse though with your laptop, you need to bring a mousepad as the table surface is unsuitable. I just used my notebook (I'm old-school and still love my handwritten notes).
A coffee shop that opens at 7 allows for a perfect work-life balance: I was working from Box & Barber between 7 and 10.30 am before my extended lunch break in the water. The conditions happened to be perfect that week between 11 am and 2 pm: surf, shower, lunch and back to work!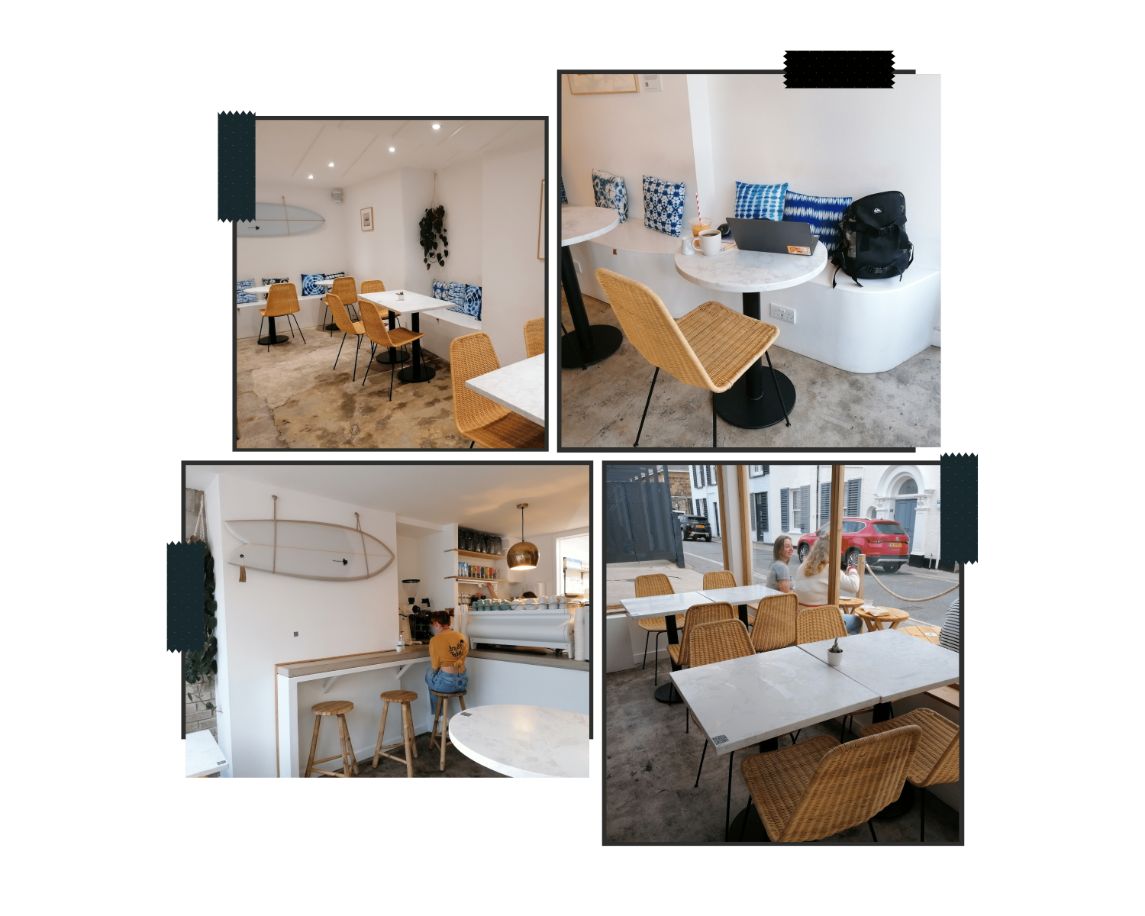 Grounded
Another one of my favourites in Newquay and one that could easily be missed if you're walking along the High Street. It's a little bit down the hill towards Towan beach. Grounded is a little coffee shop with a great selection of coffee and cakes. The Wi-Fi is stable, there are power plugs, and you can also get a seat by the window.
Of course, if you don't want to see surfers walking down the road whilst you work, you can also sit in a corner with your back towards the street. It's not a big coffee shop and a very popular one amongst locals. I was always lucky to get a table, but I could imagine this being difficult at times.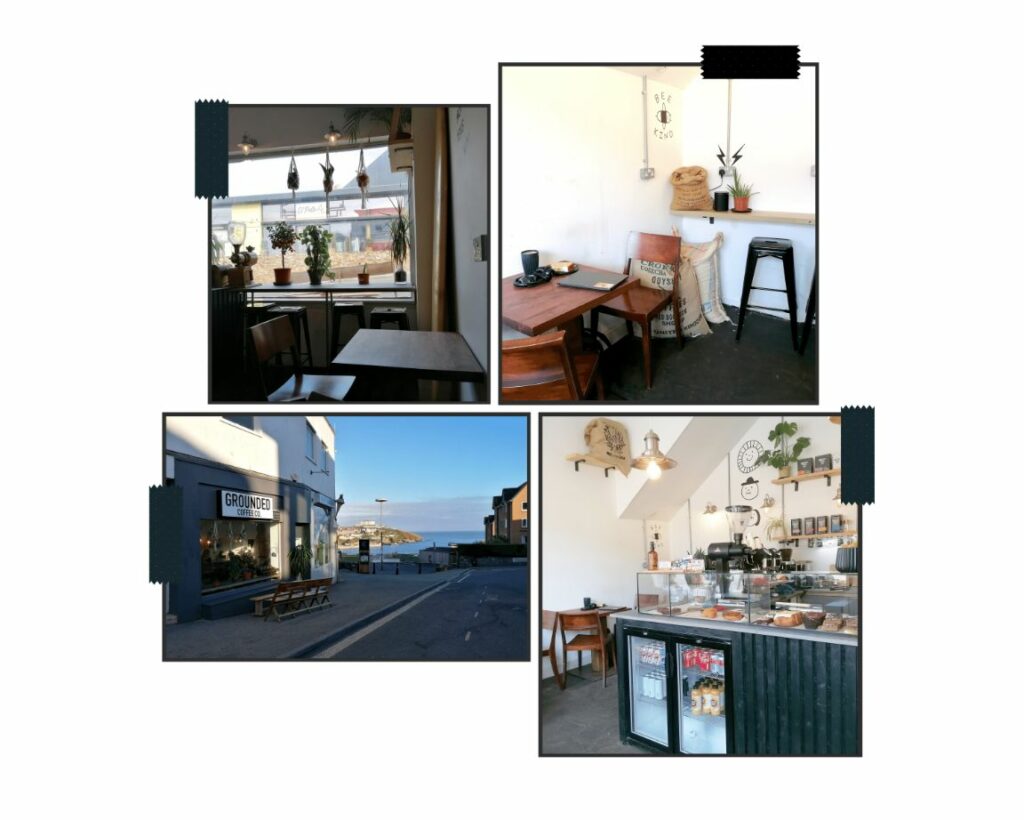 Fore Street Café
Interestingly, this one is just opposite a coworking space – but one that does not accept new members at the moment. It's along the main road and almost a bit hidden in between surf shops and across the street from Towan car park. You can quickly step out to take a look at the waves and decide to go for a surf or to keep on working. Fore Street Café is a cosy, little coffee shop with an oven and comfortable benches in the bay windows. It stretches over two floors with the top floor being a bit quieter. The internet connection is reliable and there are power plugs. I treated myself to a giant cinnamon roll for breakfast and a toast with egg and avocado for lunch. Great coffee too!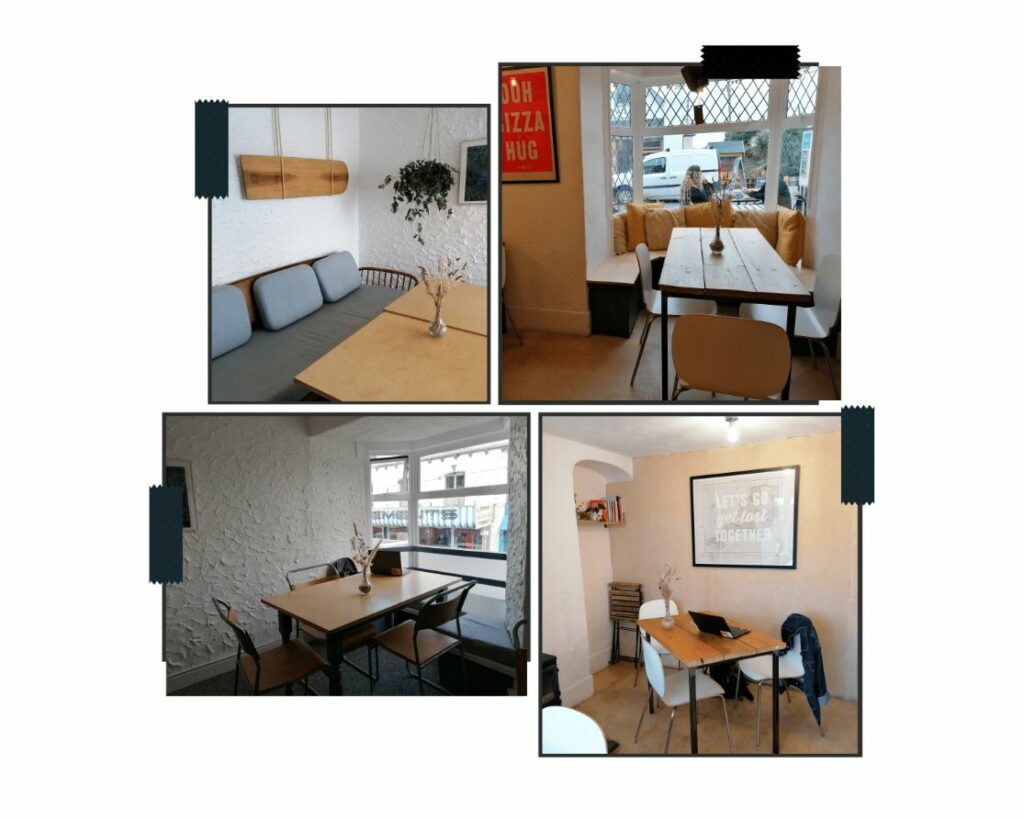 So much choice, so little time
It is hard to say which of the places I tested during my week in Newquay should be the favourite. They're all great places to work from and serve yummy food and drinks. The only downside would be that all the coffee shops in Newquay seem to close at 4pm. I was lucky to have a desk in my room at the guesthouse and tables in a quiet lobby to work in the late afternoons.
I was in Newquay at the end of September, and I must say that it is a busy little town. As such, also the coffee shops can get busy at times which is something to keep in mind. I was happy to have my noise cancelling headphones and a good headset for calls.
Bonus tip: The secret spot
I have a little bonus tip for you: You'll have to hot spot from your phone, have a fully charged battery and it's only open between May and September, but I found it the perfect place to spark creativity: The Fern Pit Café. It offers stunning views over the Gannel river and Crantock beach, and you can hear the seagulls, the wind and the waves in the background. It's like a little paradise for digital nomads – I let the pictures speak for themselves: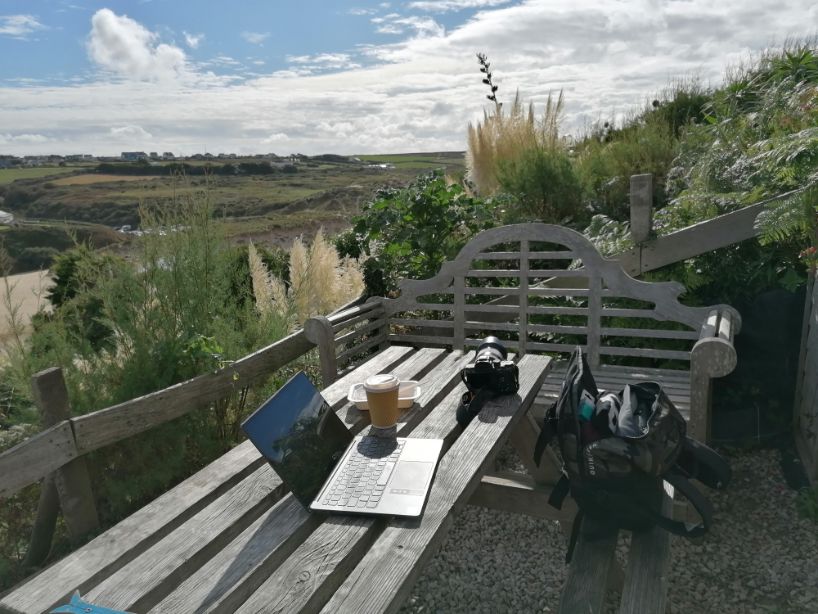 On a final note, I really enjoyed working from Newquay, not just because of the surf. There are good vibes everywhere and I remember being very surprised how friendly people are. Nearly all waitresses and bar staff engaged in a conversation, were super helpful and made working from those coffee shops special! That personal touch and people with a smile on their faces is something I miss in London's workspaces.
If you would like to experience more of it, check out our free and unique workspaces in the UK.
Browse spaces
---
About the author
This diary post has been written by Jules, a long-term Othership member, regular content contributor and SEO consultant.
If you would like to share your flo-working experience and contribute to the Diary of a Flo-Worker, please get in touch!