There are tons of awesome SEO tools out there to help you with Backlinks, Content, and the technical part of SEO. However, today we'll only focus on the free ones because not everybody can afford to pay for tools and even if you can if it's a small project or a part-time gig, it doesn't make much sense to bring out the big guns. 
I hope you'll find these useful, and feel free to complete the list in the comments.
Free SEO tools to help you… spy on your competitors
Google advanced operators
There are special commands in Google that can be extremely useful for SEO purposes. Here are a couple of examples:


This command will return all known website webpages. It'll help you understand who you're dealing with. Is it a small 10 webpage website or a juggernaut website?
An interesting twist on this search query is the use of the timeframe tool. This way you'll know how many new web pages have been published in the past month.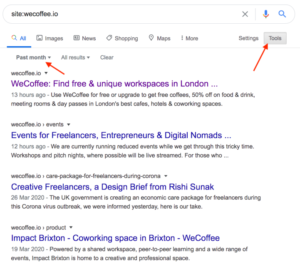 You can also spy on anything that's going on with the brand outside of their website.

This request translates to: All of the webpages that contain the "Othership" brand name and are NOT from the Othership website. 
With this, you'll know who is talking about the brand and why. Maybe the website has gained some backlinks along the way. This search can also provide inspiration on ways to promote yourself, relevant content to your field and what makes people talk about a brand.
If you are particularly interested in backlinks, there are a couple of interesting tools for that purpose.

Backlink shitter – link
Yes, you read it right. This interesting and free tool uses an open-source crawl dataset, and without going too much into how it works, it will simply provide you with some of your competitors' backlinks.
Moz's Link Explorer – link
Formerly known as "open site explorer", this classic tool is a paid tool but you can make 10 queries a month for free. That's usually enough to get you through a quick audit.
Other freemium tools

Other tools offer similar kind of deals:

That being said, you might not want to rely solely on these free trials to carry out your project.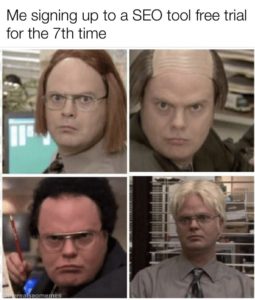 Free SEO tools to help you… find what to write about
Keyword Tool – link
As the name suggests, it will help you find relevant search queries to target.
Keyword Shitter – link
Another one that relies mainly on Google Suggestions.
AnswerThePublic – link
This tool shows you what kind of questions people are asking about a topic. Here is an example for questions for the term "coworking":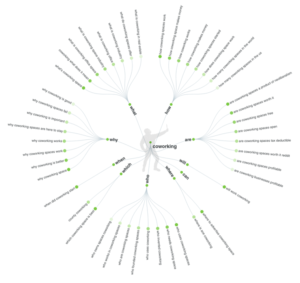 Scout Suggest – link
An interesting new tool that goes deeper into suggesting long queries that are less competitive. Useful for webmasters of a new website that is not popular yet.
Google Ads Keyword Planner – link
Now that you have the keyword, it is possible to ask Google ads how many times they are entered in its search engine. The tool is not that easy to use and data is definitely rounded, but it gives an order of magnitude.
Exploding Topics – link
This one is perfect to get an idea of what the current trends are.
Google Trends – link
This one is often overlooked, but you can't do better than Google Trends to follow search volume over time. 
Google operator "allintitle:"
After you've discovered what to write about, checked that the query is fairly searched for in Google (or is at least trending) — it's a good idea is to check how competitive it is. The dummy check you can make is to type the query and count the number of results:

We have a search with 6M pages of results but not ALL of these webpages are really competing for this search query. A better metrics to watch is "How many of them have the search query inside their webpage title". 

You can do that using the allintitle: operator. Comparing this to other search queries, you'll have a sense of how competitive a search query is: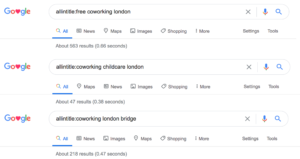 Google Images clustering
When working on a search query, it's not always easy to grasp what Google is looking for and if there are some interesting search queries subsets.One easy way to find out is to look at Google Images clustering.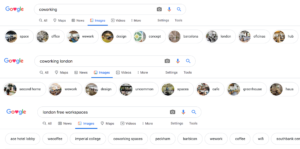 This one has Othership in the results. ❤️
Free SEO tools to help you… fix your website
Google Search Console – link
If I had to pick one tool, it would be this one. In a few words, with this tool you can:
Make Googlebot crawl a web page, render it, check the result. 

Check your website index: which web pages are inside Google index? Which ones are not and why? Is there some duplicate content issue? etc.

Test your Robots.txt and even try new rules before publishing them.

Analyse a lot of data regarding the keywords you rank on. This is the only place where you'll find the click-through rates for search engine result pages.

Submit and check your XML sitemap.
And the list goes on… You'll find plenty of tutorials out there to help you deal with it and let's not forget Google very own documentation.
The big limitation is, you'll be able to perform all of this only on your own website. 
Screaming Frog – link
If you have a small website (less than 500 URLs), you'll be able to use this one for free. As 'SF' must be the most used SEO crawler on the market, it can be interesting to learn how to use it.
Siteliner – link
A fine service that will help detect Duplicate Content issues.
Seolyzer – link
This is another Saas crawler, fairly recent, which offers some interesting data. Notably, it allows crossing crawl data with server logs. The free plan offers 10K URLs per month on one website, which is enough for many websites.
Google sheet – link
Surprisingly, Google sheet can be quite useful to extract information from webpages. This is possible thanks to the awesome "import XM" function. Extract, metadata, headings and more… 
You can see an example here.
This list is, of course, incomplete. I tried to focus on the most useful tools.
If you also have interesting tools that are worth mentioning do not hesitate to share them in comments.
Author: François Joly – technical SEO expert, web marketeer and analyst with gokam.co.uk