Phew! What a wild ride these last few weeks have been. On Wednesday 12th Feb 2020, my husband and I purchased flights to London for the following Wednesday. In between that time, my sister got married, we bought our suitcases (we very rarely travel), packed our bags (how do you pack for a 4-month work trip?) and frantically tried to meet all the deadlines we had for the next 2 weeks.
Then, after 30 hours in transit and a brief stopover in Dubai, we arrived! Over the next few days, I experienced the worst jetlag I've ever had. To be fair, I've never experienced jetlag before. I'm not joking when I say I've rarely travelled!  We had a few days to explore the city before kicking into work, but to be honest, I was barely taking anything in because all I wanted to do was curl up in bed.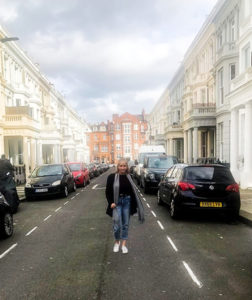 Now to go about finding a workspace in London.
When it was time to get into work, I didn't really know what to do. I couldn't work from my tiny Kensington studio flat with shotty WiFi. So, I had to venture out. In New Zealand, I'm used to working from home. There aren't a lot of co-working spaces yet, and the ones that are set up are quite expensive and/or too far away from where I'm based. 
So, the first thing I did, was type into Google 'FREE WORKSPACES LONDON'. 
The first thing to pop up was a site called Othership. They had a bunch of free workspaces based around London, so I chose the one that was closest to my husband's firm so that we could catch the tube together. It was a place called Smiths of Smithfield. What an English name! 
The workspace is on the first floor sandwiched between two pubs. It had plugs-a-plenty, WiFi that actually worked, and more importantly for an extroverted solo business owner in a foreign country – PEOPLE! 
Coincidentally, I met the co-founder of Othership, Arnaud. We chatted, we worked and he shared his Europe travel advice before inviting me to a co-working brunch that was happening that Wednesday. 
This event included unlimited coffee and brunch for only 6 pounds, which I was not going to turn down in the uber-expensive city of London. Plus, any excuse to meet new people I'm all for. 
Fast forward to Wednesday, and I got to explore a new part of London – a really cool converted carpark in Peckham called Levels. But it wasn't the workspace that won me over, it was the people. I love any chance I can get to chat to new people! I mean, as a freelance radio announcer who talks for a living, it's fair to say I'm a chatty person. 
It just so happened that that Friday, Othership were hosting a social event in another new part of London. I went along, we chatted, we drank, we wrangled some cheap curries on Brick Lane. 
The Othership community is amazing. Everyone I've met is super welcoming and friendly, plus it's great for making business connections. I've already been connected to a bunch of people who I can collaborate with, refer people to and who can refer potential clients to me. 
This is what we need in New Zealand. 
Othership is not simply a provider of free workspaces. They're not simply a networking group or social group. They are those things, but it's more than that. Othership is so much more than just a business transaction.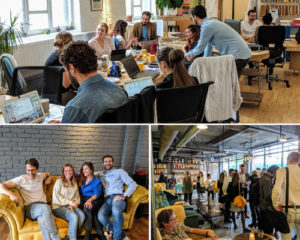 It's a community
A community of like-minded freelancers, entrepreneurs and business owners. A community who'll have no problem answering questions, giving you a helping hand, or having a wee brainstorm. 
And I wasn't even paid to write this blog. 
If you're ever in London for work, definitely check them out!
Comment from Othership: Follow the lovely Maxene on Instagram for more news of her adventures and with us! Maxene London Copywriting