When news of the Coronavirus spread, the reports of it's impact on health and death rate were immediately understood. This virus was deadly and we needed to stay home to save lives.  However, what is clear only now is that the implications go far wider than these immediate health effects.  Given the measures undertaken, Coronavirus' contaminating nature on mental health; anxiety, isolation, suicide and domestic violence, has not yet been fully realised nor has it been widely considered.
Why should we be concerned about our mental health during Coronavirus?
Economic adversity and social isolation are two of the four principle causes of suicide according to the work of sociologist Emile Durkheim, the leading expert in the field.  Sadly we are not just vulnerable to an impending surge upon hospitals directly due to Corona, but also 'a record breaking' number of calls to mental health support helplines have been reported during this time.  With as high as 37% increase in demand on the supportive services of Calm (Campaign Against Living Miserably) the charity at the forefront of the fight against Male suicide, the leading cause of death in males under 45.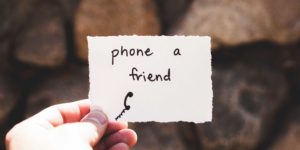 Woman are at an increased risk of domestic violence
7.8% women live at risk of domestic violence, equating to 1.3m women in the UK prior to the crisis.  The police service have confirmed that far from looters taking advantage of the imposed shop closures, it is sufferers of domestic violence, or families struggling to live with their conditions at home, for example caring for children with special needs, that are representing the majority of current call outs.  The stresses and strains on our psyche are multifarious and widely felt but none more acutely so than for those already vulnerable in our society, like those living alone, at risk of domestic violence, with other difficult circumstances and/or most vulnerable to economic adversity.
With concerning statistics such as this, we must ask…
What are the further threats to mental health posed by Coronavirus and what can be done about it?
We have an open call out to charities, businesses and amongst our members.  Please feel free to reach out to laura@othership.com with any ideas for collaboration, support and facilitation that you think we are best placed to enable.  We are open and ready to rally to support business and people through this crisis.
In the meantime please click here for our Othership Community Action Plan to see how we are supporting our own community's mental health during this time.