We had almost forgotten what it feels like. After more than a year of lockdown, months of social distancing, working from home and weeks of rain and grey skies, we were invited to a summer rooftop party in a coworking space in London. It was surprisingly easy to remember how to be social, how to enjoy the sun, the drinks and the good vibes.
A rooftop in Soho
The party took place in a prime location in London. It was at Runway East in Soho. The sign over the door gives it away, but other than that, you would not expect to find such a stunning workspace in that location. There are bars, restaurants and clubs on either side of the entrance and the whole street was bustling as we arrived at 5 p.m. All the surrounding hospitality venues were setting up tables in the street to prepare for a busy summer-in-the-city-night. We were about to discover a hidden gem, away from the Soho party scene.
As we walked up to the third floor of the coworking space, we heard music and chatter. It reminded us of times gone by. We didn't know what to expect, but it certainly exceeded our expectations. Runway East Soho has a cosy terrace hidden in between the roofs of the entertainment district in the capital. Wooden floors, plenty of plants, tables and chairs make it the perfect spot to spend your lunchbreak or enjoy a drink after a day of work.
Summer in the city
The party was already in progress when we arrived, and we were impressed by the level of detail that had gone into the event. The team at Runway East Soho had done a fabulous job preparing food and drinks: a buffet of cheeses and crackers, beers, wine and mixers were waiting for us next to the DJ booth. We couldn't help but explore the different levels of the terrace that are connected with iron staircases. There were still some people working – We have no idea how they did that whilst everybody else was enjoying the drinks, the music and the sunshine under the London sky.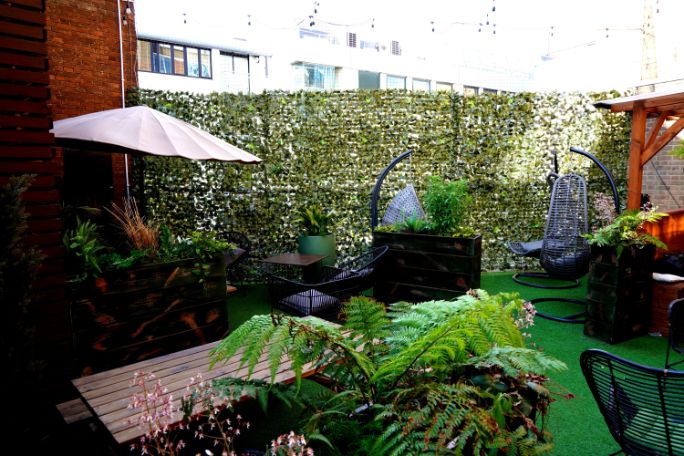 About Runway East
Runway East is a provider of coworking spaces in the UK with several locations in London and Bristol. They're known for modern architecture and design as well as a good community. There is a choice of sofas, phone booths, standard tables and desks with a view through a large window front. They certainly know how to pick the best buildings in town. Why don't you come and check them out for yourself? With Othership you can book a hot desk at Runway East London Bridge if you happen to be in London. Bristol? There's a desk waiting for you too at Runway East Bristol. Premium members can get a day pass for £ 15 (instead of £25).
Browse spaces
Try for free